ICTSI South Pacific welcome Meratus Line's PNG service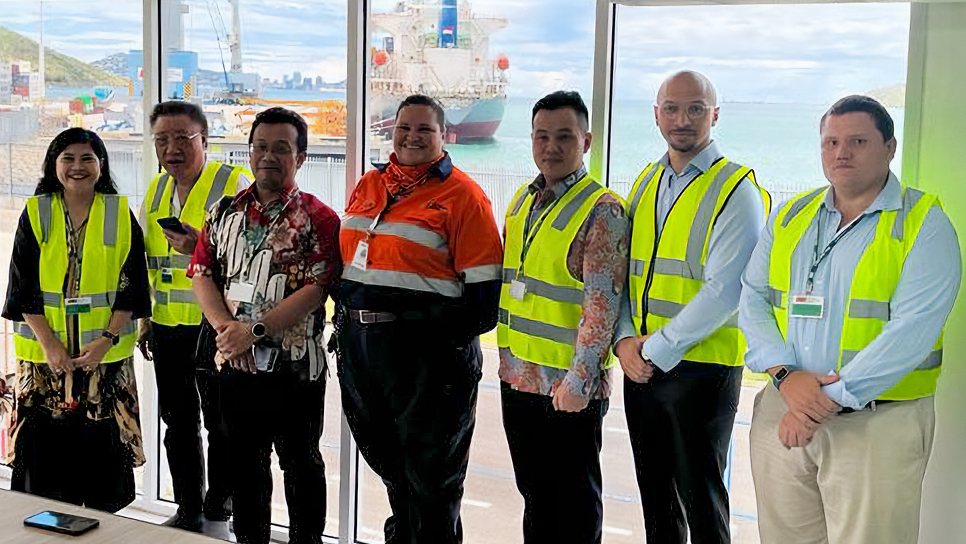 Gwen Owen-Rothmaier (fourth from left), MIT Terminal manager, with Meratus Line officials during the maiden call of the PNG Express service at MIT
---
ICTSI South Pacific, International Container Terminal Services, Inc.'s (ICTSI) business unit in Papua New Guinea (PNG), welcomed the maiden call of the newly launched PNG Express service by Meratus Line, one of Indonesia's leading maritime and logistics operators. 
The PNG Express is the first Indonesian service to operate in Papua New Guinea. It offers direct connections to Indonesia via Jakarta and Surabaya, Malaysia, Singapore, China, and East Timor via Dili, and launches every 28 days.
"This new service highlights the strategic importance of our ports in facilitating both regional and global trade for Papua New Guinea," said Robert Maxwell, ICTSI South Pacific chief executive officer.
He added: "We look forward to enhancing our partnership and cooperation with Meratus Line to provide PNG importers and exporters with increasingly frequent vessel connections to our neighbors in Indonesia and East Timor."
The Meratus Gorontalo, the first vessel to sail under the PNG Express service, made its inaugural calls to Motukea International Container Terminal (MIT) in Port Moresby on 22 February, and to South Pacific International Container Terminal in Lae on 26 February. 
SPICT recently commissioned two new post-Panamax ship-to-shore cranes, the first of its kind and the largest port equipment in PNG. MIT, on the other hand, added another mobile harbor crane to enhance capacity and productivity.
 File photo of Motukea International Terminal, ICTSI's operation in Port Moresby.