Wan Hai's MHT service resumes calls at Mindanao Container Terminal
File photo of Mindanao Container Terminal
---
Mindanao Container Terminal (MCT), International Container Terminal Services, Inc.'s (ICTSI) container handling facility in Cagayan de Oro, Philippines, recently welcomed the return of Wan Hai Lines' Mindanao – Hong Kong – Taiwan (MHT) service.
The MHT service resumed calls to MCT on 3 August, marked by the arrival of the vessel Wan Hai 231. Wan Hai's weekly service will call MCT every Saturday, connecting Subic, Cebu and Mindanao to the bustling trade hubs of Hong Kong and Taiwan.
"The return of the MHT service is a significant development in our efforts to strengthen regional trade connectivity and support the growing Mindanao economy. We are thrilled to re-establish this crucial link that makes international trade more efficient and accessible to businesses in Mindanao," said Aurelio Garcia, MCT chief executive officer.
The re-inclusion of MCT to the service rotation was driven by increasing market demand and economic activity in Mindanao, which has seen an 18 percent increase in export volume.
A total of 237 containers were handled during the call and majority of the commodities transported included coconut byproducts, falcata lumber and wastepaper.
MCT looks ahead to a fruitful collaboration with Wan Hai and the mutual benefits that the reinstated service will bring to the region's economy.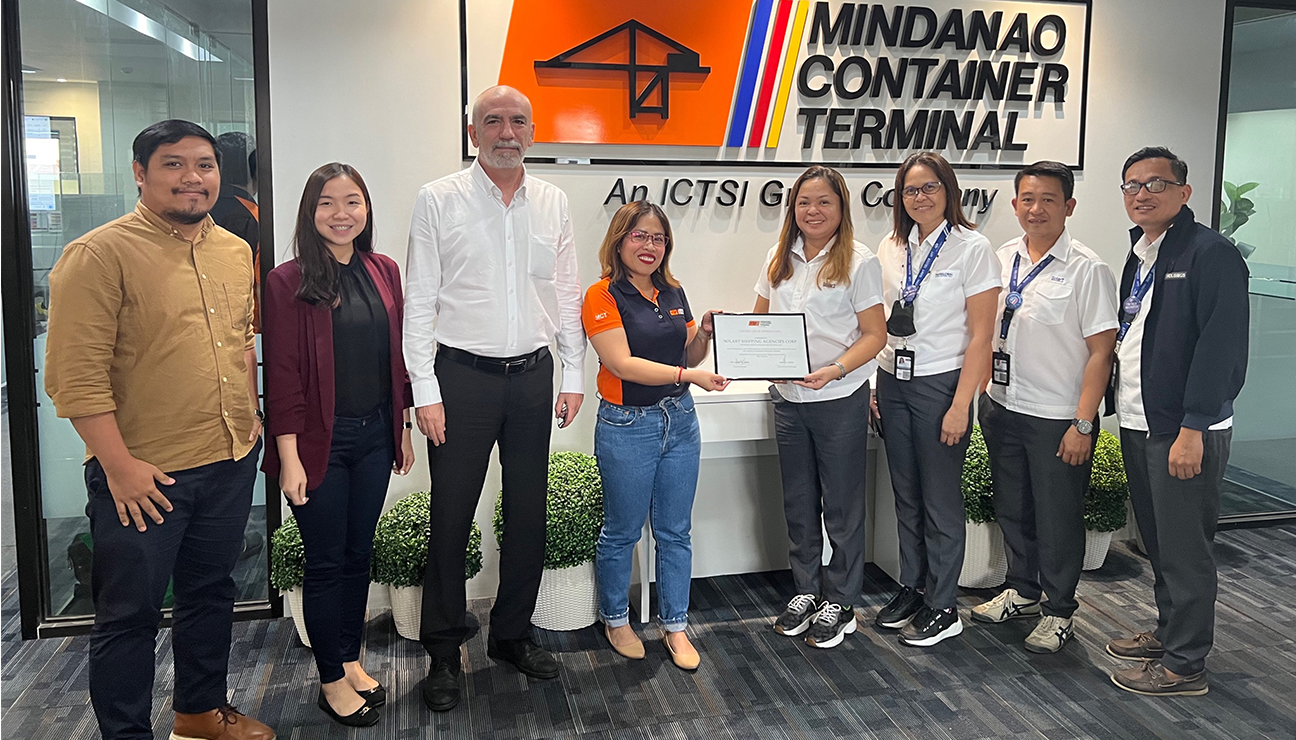 (From left) Paul John Dagoc, MCT commercial manager; Sharmine Cuizon, MCT commercial specialist; Aurelio Garcia, MCT general manager, and Atty. Gemma Gloria, MCT Terminal manager, presents a token to Beth Toledo, Solart Shipping Agencies Corp. general manager, to commemorate maiden call of Wan Hai 231. Solart Shipping Agencies Corp. is the shipping agent of Wan Hai Lines Philippines Inc.
(From left) Edzel Rodriguez of Solart Shipping Agencies Corp. operations; Mr. Dagoc; Ms. Toledo; Ms. Gloria; Elena Wu, Wan Hai Lines vice president - Operations; Mr. Garcia; Shyang Wong, Wan Hai Lines executive vice president; and Lourdes Grace Mapalad, PK Holdings president.