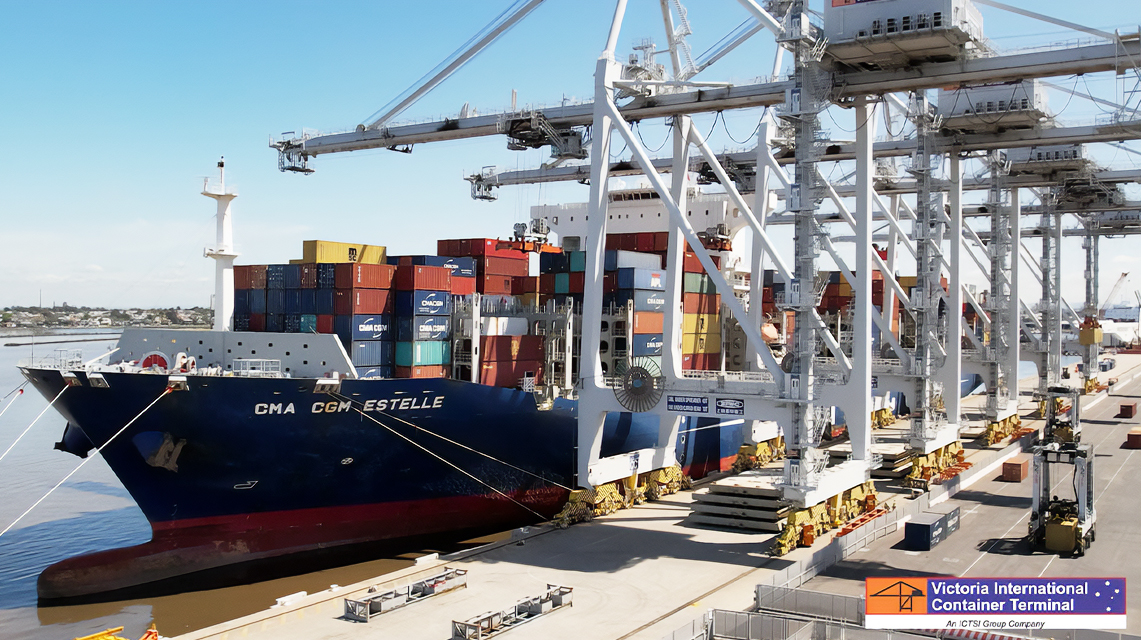 CMA CGM Estelle alongside at Victoria International Container Terminal.
The CMA CGM Group continues to deploy the largest vessel, in capacity, at the Port of Melbourne (PoMC) breaking their own record previously held by the CMA CGM Ural at 10,622 TEU operated by ANL on the Australia Asia Express 1 (AAX1) service. 
Like the CMA CGM Ural, the CMA CGM Estelle berthed at Victoria International Container Terminal (VICT) in Webb Dock.
The addition of the CMA CGM Estelle, with a nominal capacity of 10,926 TEU operates on the North Europe Mediterranean Oceania (NEMO) service.
Tim Vancampen, VICT chief executive officer, said:  "VICT would like to congratulate the CMA CGM Group on their continued drive for efficiencies through deploying larger vessels with clear environmental benefits in the Oceania trades to support the demand of the economy and utilize the ability to increase economies of scale.  In partnership with PoMC in the Webb Dock Development, we are committed to supporting the Victorian shipping industry with our $235 million investment that will increase our ability to accommodate increasing vessel sizes."
Saul Cannon, PoMC chief executive officer, welcomed the arrival of the record-breaking vessel:  "It's really exciting to see this vessel arrive at Port of Melbourne.  We are investing across the port to ensure we can accommodate the larger vessels that are calling at Melbourne." 
He adds:  "The global shipping fleet is deploying larger vessels. Port of Melbourne is well-positioned to meet global shipping trends to serve the growing freight needs of Victoria and south-eastern Australia now and into the future."
---
ABOUT VICTORIA INTERNATIONAL CONTAINER TERMINAL
Victoria International Container Terminal in Melbourne, Australia is a fully-automated container terminal capable of servicing the largest existing and next-class vessels on trade.  Operational since 2017, it is a subsidiary of International Container Terminal Services, Inc. (www.vict.com.au)

ABOUT INTERNATIONAL CONTAINER TERMINAL SERVICES, INC.
Headquartered and established in 1988 in Manila, Philippines, International Container Terminal Services, Inc. (ICTSI) is in the business of port development, management and operations.  ICTSI's portfolio of terminals and projects are located in developed and emerging market economies in the Asia Pacific, the Americas, and Europe, the Middle East and Africa.  Independent with no shipping or consignee-related interests, ICTSI works and transacts transparently with all stakeholders of the supply chain.  ICTSI continues to receive global acclaim for its public-private partnerships, which are focused on sustainable development, and supported by corporate social responsibility initiatives. (www.ictsi.com)